Vasyl Yermylov. Sketch of hands (1920s)
Vasyl Yermylov is a well-known Ukrainian avant-garde painter and graphic artist, designer. Like many other artists of the beginning of the 20th century, he searched for new forms and meanings in his work. Having gone through numerous -isms of the avant-garde — cubism, futurism, suprematism, Yermylov finally stops at the view closest to himself — the artist as a producer and begins to call himself a designer. His task is to penetrate into the everyday sphere of life of a new person and construct his functional reality. Hence the name of the artistic direction, one of the founders of which was Yermylov — constructivism.
This design approach was most clearly manifested in the architecture of small forms and interior design. In 1919, Yermylov was appointed the artist of festive decoration of Kharkiv for May Day. Despite the lack of funds and materials, he worked with great enthusiasm to build and decorate stages, stands, stalls, campaign vans and trains, with only plywood and a few paints to realize his ideas.
In addition, Vasyl Yermylov sought perfection in painting and graphics. Imitating the cubists, Yermylov depicts simple objects in his still lifes: plates, knives, matches, bread. Like Picasso, he experiments with the image of a guitar. In graphics, he also manages to get rid of everything unnecessary, unimportant. In the design of magazines, posters, or match wrappers and logos, the artist limits his palette to 2-3 colors, mostly uses geometric shapes, his own pin.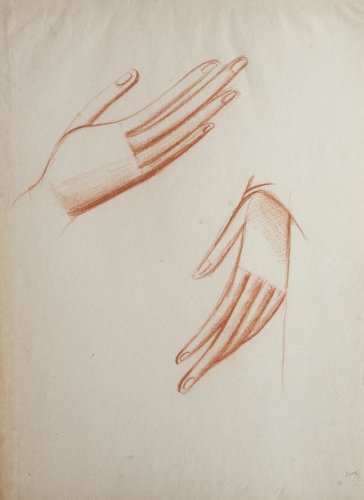 Sketch of hands by Vasyl Yermylov (1920s)
Sketch of hands belongs to a series of graphic studies of the human body made during the 1920s. In these studios, female, male and child figures, naked and clothed, in various poses and angles fill small sheets of paper — somewhere between A4 and A3 in modern formats. Despite all his innovation and love of experiments, in this drawing Yermylov follows the traditions of the masters of the past. One of the challenges for the artist has always been the depiction of hands in dynamics (think of Dürer, who dedicated some of his most famous sketches to human hands). A possible solution to this problem is to remove all unnecessary details and isolate the main dynamic elements, creating a kind of anatomical designer.
Scketch of hands by Vasyl Yermylov was animated by Pause to Play animation studio.
Created as part of the Living Collection project
The figure shows two palms with extended fingers one above the other in opposite motion. They seem to be holding an invisible object. The schematicity of the image, the thin lines and the tenderness of the gesture evoke in the imagination of the work not so much constructivists, but Yermylov's contemporaries from the school of Mykhailo Boychuk, as well as Byzantine icons. One can imagine those hands clutching something — or someone — to their chest. Although most of Yermylov's anatomical sketches are done in simple pencil (sometimes green or pink), this work is done in sangina, which adds warmth and softness to the drawing.
The artist was deeply convinced of the need to build a new world and educate a new person through art. However, as often happened in the Soviet Union, ideologues turned into enemies. Yermylov was accused of formalism and cosmopolitanism, expelled from the Union of Artists. His (shown) rehabilitation and first personal exhibition took place only in the 1960s.
Projects