Oleksandr Agafonov. Female flutist (1990)
Oleksandr Agafonov is a Ukrainian artist and sculptor who currently lives and works in Belgium. The period of his mature creativity falls on the late Soviet times and the beginning of Ukrainian independence.
According to the artist himself, he does not recognize conceptual art, he sees in it the symptoms of a crisis. Agafonov says that he is looking for the embodiment of light, music and celebration in his works.
His childhood was spent in the difficult post-war years, which did not prevent him from realizing his interest in art. Agafonov graduated from Kyiv State Art Institute. However, he considered the artists of the past — Botticelli, Van Gogh, Giotto, Cimabue — to be his true teachers. Among his contemporaries, Zinoviy Tolkachev, Oleksandr Tyshler, Zoya Lerman, Maya Hrigorieva had a great influence on him.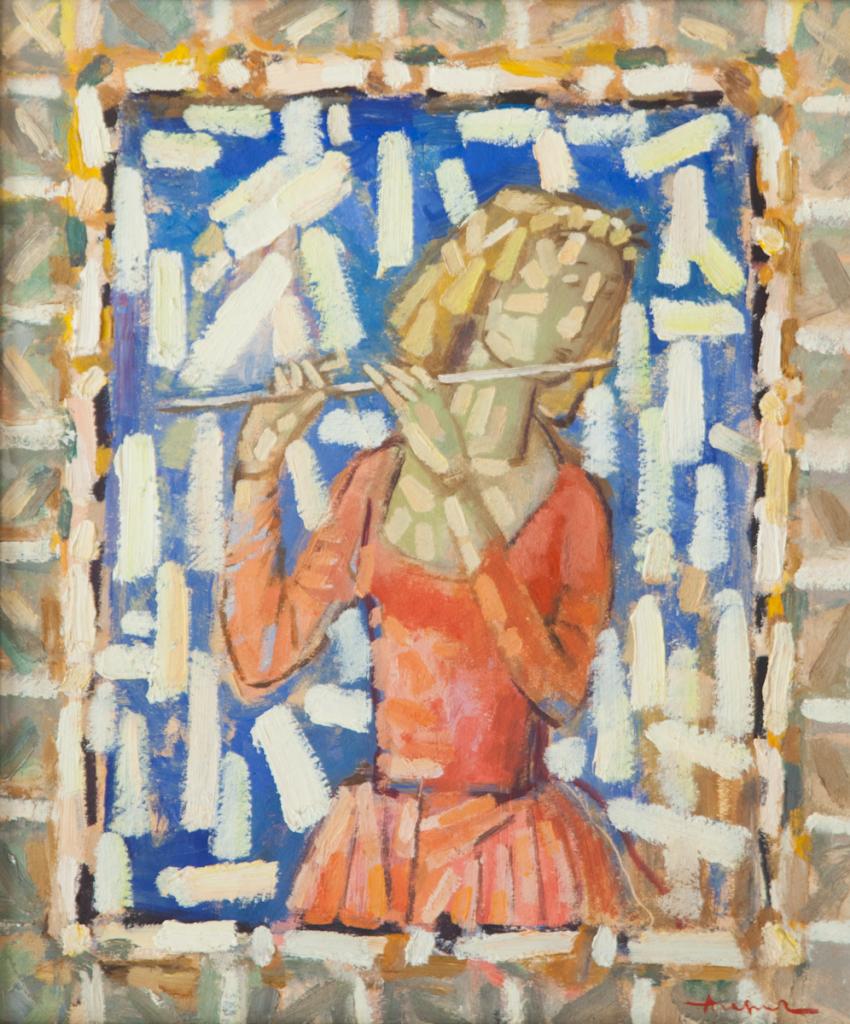 Oleksandr Agafonov. Female flutist (1990)
Agafonov's painting from the collection of the Mystetskyi Arsenal, Female flutist, depicts a young woman in a red dress playing the flute. It is interesting that this musical instrument and the image of musicians-angels and dancers appear in the artist's work on other canvases and sculptures. Compositionally, the figure is placed almost in the center, the girl's head is tilted to the right, and a frame is visible around the perimeter. The work is distinguished by massive whitish strokes of paint. Against the background, they gain a special scope, on the face and in the details of the clothes, the artist superimposes them more discreetly, marking the illuminated places.
The whole image: dress, hairstyle, tilt of the head refer to the canvases of the Renaissance, where the beauty of a woman was romanticized and praised. However, unlike the Renaissance landscape or interior details, which necessarily appeared in portrait images, it is difficult for the viewer to guess the origin of the flutist, the place and time in which she is. This often happens with the heroes of Agafonov's paintings. They seem to be in an extremely poetic, utopian world created by the artist.
The picture Female flutist by Oleksandr Agafonov was animated by Pause to Play animation studio.
Created as part of the Living Collection project
The painting was purchased by Ihor Dychenko in the early 90s of the last century. The images of ladies, angels, harlequins depicted by Agafonov were also close to the collector himself, who associated himself with Harlequin, his favorite character of the commedia dell'arte, the Italian theater of improvisation.
Projects