Zoya Lerman. Black Sea (1980)
Zoya Lerman is a Ukrainian artist, sculptor, whose work fell on the times of the official strict style, socialist realism. Lerman and her circle of communication are counted among the Ukrainian underground. However, the artist herself did not consider herself a sixties rebel and, as her contemporaries recall, did not even notice the pressure of the system. According to the collector Ihor Dychenko: "Zoya was not related to this style [social realism. author], nor to any other."
Almost all the time, the artist did not work for the show — she did not have personal exhibitions until 1994, and received only secondary orders from the Union of Artists. Most of all, Lerman turned to portraits, especially women's, depicted mothers with children, admired ballerinas, dancers, for some time researched the life of peasant women, folklore.
Zoya Lerman was born in Kyiv, graduated from the Taras Shevchenko Kyiv Art School, where she later taught, as well as the Kyiv State Art Institute. The great teacher for Lerman was the artist Serhii Hryhoriev. In addition to the forbidden freedom that Hryhoriev gave to his students, the artist was nourished by the paintings of Vrubel, Picasso, and Renaissance paintings.
The painting Black Sea from the collection of the Mystetskyi Arsenal was painted in 1980. The work is made with oil paints on a wooden board.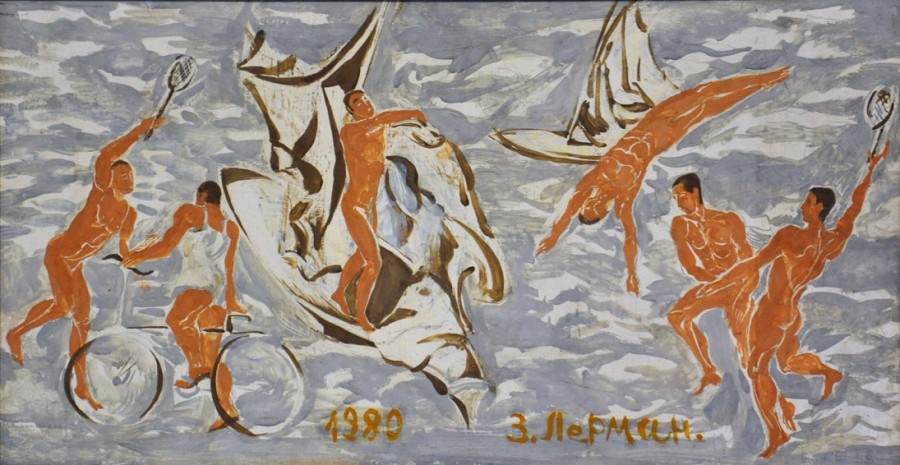 Zoya Lerman. Black Sea
At first glance, it may seem that before us are dancers from a painting by Matisse. In fact, before us are six athletes who, like the ancient Greeks, practice in various types of competitions. Like the men on ancient painted vases, these characters fascinate with their physical beauty. Two of them are playing tennis, one is riding a bicycle, the third athlete, depicted in flight, is jumping into the water. In the center of the composition is a man on a white boat with a sail. The whole action takes place against the background of sea waves, which adds lyricism to the plot and romanticizes the characters.
The picture Black Sea by Zoya Lerman was animated by Pause to Play animation studio.
Created as part of the Living Collection project
Lerman masterfully conveys the plasticity of the bodies of his characters, movement. The artist chooses only a few colors: shades of blue for the image of water and brown for the bodies of athletes. She also manages to use the light gray background to unify the whole composition. It emphasizes the relief of male figures and the transparent crests of waves. The canvas is characterized by a wide, bold, but very accurate stroke. In general, the composition can be regarded as a sketch for a panel.
Despite the fact that the artistic path of Zoya Lerman went through different times: from complete professional isolation to prosperity, the artist raised more than one generation of talented student artists.
Projects