Instant time
July 12 – August 12  the exhibition "Instant Time" will be held at Mystetskyi arsenal.
The exhibition is a winning project of an open competition of ideas of artistic projects held by Mystetskyi arsenal in 2017.
«Instant time» is a metaphor for a fundamentally new experience that Ukraine gained in the 1990s. First years of independence were the time of acceleration, rapid changes and decisions, when information and phenomena spread immediately as well as disappeared. The information vacuum spontaneously filled without any filters and barriers and took everything that came into its space. Craving for a new grew against the backdrop of the invasion of surrogates and low-quality substitutes, which, however, really inspired and captivated, and sometimes provoked the emergence of unique phenomena, not only of a local character.
The narrative of the exhibition consists of stories from 9 cities and regions of Ukraine. A group of curators creates a certain cross-section of the socio-political context of their city, focusing on the stories of places, phenomena and people, exploring their fears and dreams in these historical conditions. Memories and interpretations create a fragile fabric of reality, which makes it possible to understand what people felt and how they changed in the 90s.
Measures of social and personal are supplemented by visions of different generations of artists. The view of the participants of the cultural events of that time exists along with the voices of those who were born in the 90s and now are creating contemporary art. This approach allows us to construct a more voluminous view of the 90s and expand the habitual perception of a new ethics – through the eyes of children to look at the world that was built by adults.
Next
Previous
Yaroslav Yanovskii From the series "Water", 1997. Photo
Next
Previous
Anna Bekerska Untitled, 2018. Digital collage
Next
Previous
Yevhen Pavlov. 2002, photo.
Viktoriia Bavykina and Asia Tsisar
authors of the idea and the exhibition curators
«Instead of answering the question «What were the 90s?» we are building a laboratory experiment on our own memory to raise an important question: «What from the 90's has left with us today?». Any event or phenomenon does not disappear completely, it doesn't vanish without a trace, but it becomes a habit and continue to appear in the practices of the present. In the context of the exhibition stories from Lviv, the Crimea, Kharkiv, Donetsk, Dnipro, Kherson, Odessa, Ivano-Frankivsk and Kyiv add up to a horizontal of equitable phenomena: flourishing of market trade, struggle of miners for their rights, banditry, art, sexuality and freedom are only a part of this decade's heritage that still affects our lives. Remembering the 90s, we are trying to understand the nature of our time.»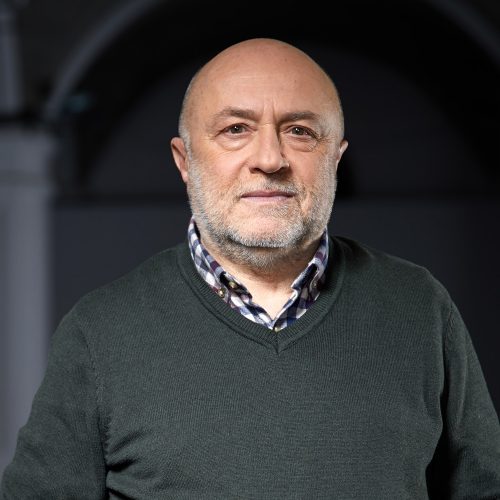 Oleksandr Soloviov
curator contemporary art of Mystetskyi arsenal:
«This project became possible due to the important initiative of Mystetskyi arsenal to hold a regular contest of curatorial projects. One of its tasks is to update the Ukrainian art scene, to implement the ideas of young curators who are able to fill our exhibition space with non-standard solutions. This, indeed, is an interesting project with unusual laboratory optics. This is a collective experimental statement, the main hero of which is time, more precisely the collision of different times – the past and present, the dialogue of different generations, the controversy of various aesthetic views and schools. And in July-August of 2018, the next contest will be announced.»
Team
Authors of the idea, curators

Viktoriia Bavykina
Asia Tsisar

Curators

Olena Afanasieva
Maks Afanasiev
Viktoriia Bavykina
Anatolii Zvizhynskyi
Maks Kovalchuk
Anastasiia Nechyporenko
Andrii Palash
Nadiia Pryhodych
Kateryna Rusetska
Kateryna Semeniuk
Tolik Tatarenko
Asia Tsisar

Artists

Emma Andiievska, Potr Armianovskyi, Maks Afanasiev, Anna Bekerska, Marharyta Bolhar

Oleksii Borysov, Bu-Ba-Bu, Oleksandr Vereshchak, Daniil Halkin, Andrii Horokhov, Serhii Hryhorian, Liia Dostlieva i Andrii Dostliev, Kateryna Yermolaieva, Yurii Yefanov, Stas Zhalobniuk, Oleksandr Zhukovskyi, Opanas Zalyvakha, Anatolii Zvizhynskyi, Hamlet Zinkivskyi, Yurii Izdryk, Illia Isupov, Volodymyr Kabachenko, Vlodko Kaufman, Myroslav Korol, Rostyslav Koterlin, Yurko Kokh, Vlodko Kostyrko, Mykola Lukin, Liera Malchenko i Oleksandr Hants, Andrii Mentukh, Volodymyr Mulyk, Yevhenii Pavlov, Ihor Pereklita, Serhii Petliuk, Liubomyr Petrenko, Yuliia Polunina-But, Roman Piatkovka, Stepan Riabchenko, Solomiia Savchuk, Petro Starukh, Kostiantyn Tereshchenko, The Masoch Fund (Ihor Podolchak, Ihor Diurych, Roman Viktiuk), Ihor Chekachkov, Illia Chychkan, Oleksandra Chychkan,Anastasiia Chibitseva, Volodymyr Shaposhnykov, Yaroslav Yanovskyi, Myroslav Yaremak, Anthony Davies, Anne Dykmans, Hussein Elgebali, Herman Hebler, Krolikowski Art, Sato Kyoko, Hiroshi Mimura, Masae Miyamoto, Tonia Nikolaidou, Synchrodogs, Son-Ah-yoo, Antonia Talamini, Temporary group, Yoshizumi Toshio, Opy Zouny
Partners

Archive