3D tour of the "Forms of Presence" exhibition
The Mystetskyi Arsenal presents a virtual tour of the "Forms of Presence" exhibition project
The exhibition is open to everyone who is interested in contemporary Ukrainian art or is just starting to get acquainted with the artworks of modern artists. A 3D tour of the exhibition is available anywhere in the world. Just click on the image below to view it ⤵️
The 3D tour was developed by AERO3D
The exhibition "Forms of Presence" is largely about all of us, about our experience and sense of time, about the importance of personal experiences, about the importance of constantly speaking about them. 3 exhibition halls and the entrance area are available for online viewing. Visitors to the 3D tour can examine the works (painting, photography, video, sculpture, graphics, installation) in detail, as well as read in Ukrainian and English about the concept of each exhibition hall and the works placed in them.
The exhibition "Forms of Presence" presents the works of Ukrainian artists: Yuriy Bolsa, Andrii Denysenko, Anastasiia Dytso and Sasha Roshen, Anton Karyuk, Yana Kononova, Olena Kurzel, Maksym Mazur, Daria Molokoiedova, Daniil Nemyrovskyi, Karina Synytsia, Leo Trotsenko, Tamara Turliun, Sana Shakhmuradova-Tanska, Vitaly Yankovy, Three practices of realism, commercial public art and Svitlanka Konoplyova, Open place.
The virtual tour will be available even after the exhibition project is completed on July 30, 2023.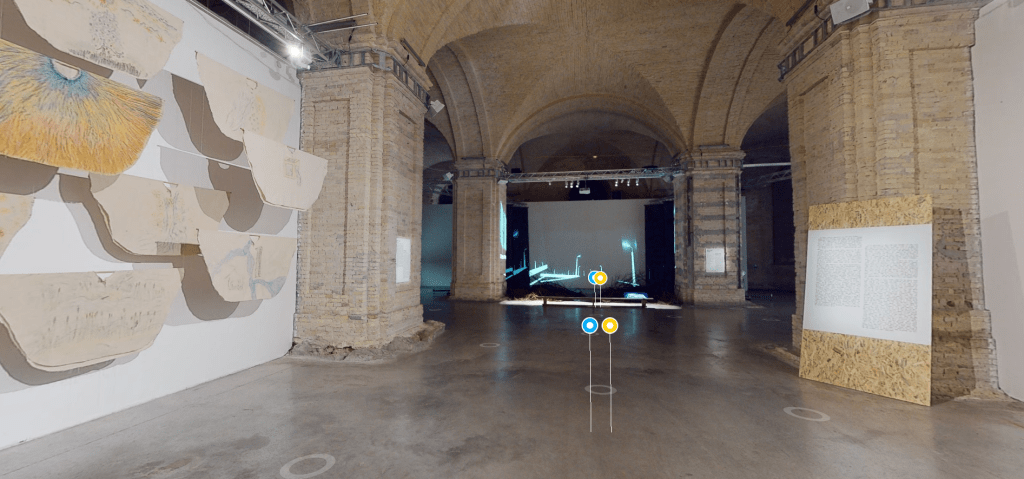 Since the beginning of the full-scale Russian invasion, artists have found themselves in a situation where art practice seems to be a privilege, and reality trumps all attempts to depict it. Some of them chose to volunteer without material production, some became soldiers, some directed their efforts to humanitarian projects, and some continued their daily art practice to record the surrounding changes and sense of time. By that time, many artists lost their artworks and the artworks of their friends, as well as their studios. This increased the sense of irreversibility and loss. In such a situation, material production became a way of resisting and evidencing the war. This phenomenon was aptly described by artist Lesia Khomenko: "In times of physical destruction, we will create physically". Thus, working with the material became therapy, a document of time, and a return to oneself.
Curatorial text of the exhibition "Forms of Presence"
In the exhibition space, each of the creators is present not only through their artworks but also through their personal stories, which allows a broader understanding of the conditions in which these artworks were made possible. In them, the presence of war is felt through the materials: torn paper, concrete, embroidery on fabric or a plastic bag, a house made of sand and glass, crumbs of earth and raw wood. All of these are ways of the war's presence and acts of defiance against injustice and violence, through which life pulsates as opposed to the void of absence.
This exhibition is an attempt to bring together yearly observations and conversations about the experiences and feelings that Ukrainian artists have had and the practices they have used since the beginning of the full-scale Russian invasion.
Curatorial group — Oleksandr Soloviov, Natasha Chychasova.
The exhibition was created in partnership with Art Arsenal Community NGO as part of the project supported by the Public Affairs Section of the U.S. Embassy to Ukraine.