Alex Fisher: «Art will always find a way to express itself»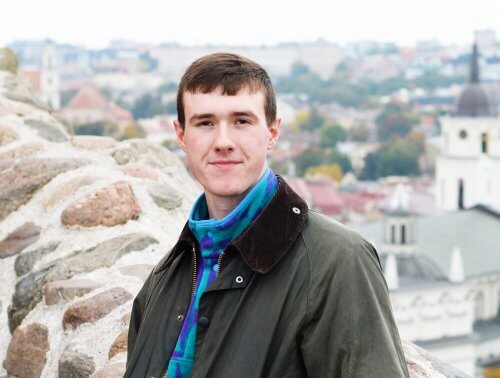 Alex Fisher is an art historian, researcher and curator from Buffalo, New York. Since August 2019, Alex has been living in Kyiv, where he studies Ukrainian contemporary art as a Fulbright scholar. During the scholarship, Alex collaborates with Mystetskyi Arsenal and ISOLYATSIA. Platform of Cultural Initiatives.

Kateryna Tykhonenko, a leading specialist of the Department of Contemporary Art Programmes and Mala Gallery Art Lab, asked Alex how he observes the contemporary art landscape of Ukraine.
While on Fulbright,  Alex Fisher has written about developments in Ukrainian contemporary art for THIS IS BADLAND, Blok, Danarti, PIN-UP, VONO, TransitoryWhite, KRZAK Papier, and Kajet in addition to lecturing at a variety of universities and cultural centers as well as providing editorial support to the likes of ANTON BELINSKIY and the Ukrainian Photographic Alternative alongside participating in 'Sorry, No Rooms Available' Residency with interdisciplinary artist Anton Hryhorenko.
You have been living in Ukraine for almost one year. Why did you decide to apply for Fulbright and why in Kyiv?
I had the opportunity to visit Kyiv for a weekend in the fall of 2017 while studying in Stockholm. I had a great visit and returned the following summer. As I approached graduation from university, I realized there was nowhere else I wanted to start my professional career than Kyiv. The city has an infectious creative energy, particularly amongst the millennial generation. There is an empowered sense of possibility here.
Fulbright represents a fantastic opportunity to pursue a passion. I am grateful to be affiliated with the programme as it has supported my research in countless ways, pushing me out of my comfort zone, introducing me to leaders in and beyond the cultural sphere, and reinforcing my belief in the value of international exchange. 
You travel around Ukraine a lot. What do you think is special and unique for Ukrainian contemporary art? Can you name your favourite artists here?
Before the pandemic began, I was well on my way to reaching every oblast. Alas, I am confident I will reach all of them in due time.
With regards to Ukrainian contemporary art, I appreciate the fact that there is no standard manifestation. The absence of a 'kunsthall' system makes it such that each city fosters the growth of contemporary art in an individualized way, often with surprising results as with a museum in a mall in Lutsk, the soon-to-be-opened Dnipro Centre for Contemporary Culture in a gorgeous aristocratic building, and the industrial setting of Jam Factory in Lviv. There is an originality to these approaches that I find compelling. Art will always find a way to express itself. The expressions in Ukraine are beguiling. 
As far as favorite artists, I admire many different ones for different reasons. That said, I am quite interested in artists who carry out an experimental practice in rural and regional settings. To this end, I am drawn to the Mykolaiv-based conceptual artist Viktor Pokydanets, Sievierodonetsk-based collective Lugansk Contemporary Diaspora, Zakarpattia-based interdisciplinary artist and residency organizer Petro Ryaska, and the trio Studio 12345678910. The latter's installation at the 2020 PinchukArtCentre Prize exhibition was, for me, one of the standout works I've seen in Ukraine. I find that their work queries the individualization of public space in a simultaneously confident and sympathetic way.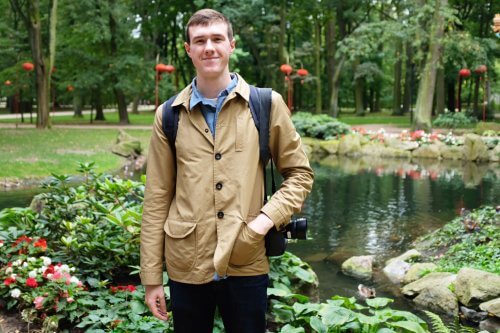 Alex Fisher. Photo from personal archive
How do you observe the role of art institutions in Ukraine? Can you compare your experience in Mystetskyi Arsenal and IZOLYATSIA?
Generally speaking, I am struck by a collective momentum in the arts community in Ukraine. Artists, curators, writers and institutions appear to be moving forward together. In other words, there is a palpable sense of solidarity. 
As far as institutions go, I am surprised at how fluid operations are. Coming from a place where museum schedules are often confirmed years in advance, Ukrainian institutions can look rather impulsive. And yet, everything always finds a way to come together. That ability to be quick and respond to evolving conditions is, I would say, an asset, especially now.
I think Mystetskyi Arsenal plays a vital role in the cultural landscape, particularly with regards to the space it gives to large-scale retrospectives of artists from the 20th and 21st centuries. These shows have art historical significance since they allow visitors, researchers, etc. to engage the depth and nuance of an artist's practice in a way few other institutions in the country can do. Moreover, Mystetskyi Arsenal's exhibition design stands out as it embraces multimedia and emboldens audience engagement in a novel, memorable way. 
It has been a privilege to split my time between Mystetskyi Arsenal and IZOLYATSIA. In many ways, they are equally opposite. I love Mystetskyi Arsenal's location in close proximity to Pechersk Lavra, the Motherland Monument, and the government administration buildings — a radical mix of histories and authorities in the space of a few blocks. IZOLYATSIA, on the other hand, is situated amongst a functioning shipyard and has a programme which prioritizes introducing international artists to the Ukrainian context and bringing contemporary and culture on the road. 
What new perspectives has this year of cultural immersion given you?
The more I have traveled, the more I have come to appreciate the intricacies of the Ukrainian cultural landscape. 
In terms of takeaways, the entrepreneurial spirit of Ukrainian contemporary artists is inspiring. I am thinking about Sergey Melnitchenko establishing a photo academy in Mykolaiv, Zhanna Kadyrova redistributing the proceeds from art sales towards building public art installations in Pokrovsk, Sergey Lebedynskyy and colleagues developing the Museum of Kharkiv School of Photography, and the aforementioned Petro Ryaska's Sorry, No Rooms Available residency in Uzhhorod.
I also admire those artists who strive to recognize and enlarge the legacies of artists' previous generation. The likes of Alex Bykov, Oleksandr Burlaka, Stanislav Turina and Yaroslav Futymskyi are heroes in this way. 
In terms of takeaways from my domestic travels, I will say I hope to spend more time studying Zakarpattia in the future. The ancient history, recent history, landscape, and more in this region are fascinating as are the artists working there.
Can you share some about your plans for the future?
In the coming months I am working on a few longer essays. In particular, I am writing a reflection on the institutional landscape in Ukraine for IZOLYATSIA, a story about my impressions of contemporary art in Sumy, which will likely be published in VONO, and a profile of Sorry, No Rooms Available for Flash Art Czech & Slovak Edition.
I am also developing a curatorial programme for an international exhibition dedicated to Ukrainian contemporary art in 2021, details of which will hopefully be announced soon, pandemic permitting.
All in all, I believe my relationship with Ukraine is still in its first chapters.