THE "UKRAINE ABLAZE" PROJECT BY THE LABORATORY OF CONTEMPORARY ART "Mala Gallery of Mystetskyi Arsenal"
Ukraine Ablaze is an artistic initiative aimed at archiving and disseminating Ukrainian art dedicated to understanding the war in Ukraine from 2014 to the present moment of an ongoing full-scale Russian invasion in 2022. The project functions as an online platform representing artists' works and their profiles, with the possibility of public distribution of the artworks.
The project is ongoing and is being updated, so stay tuned for new works on the site.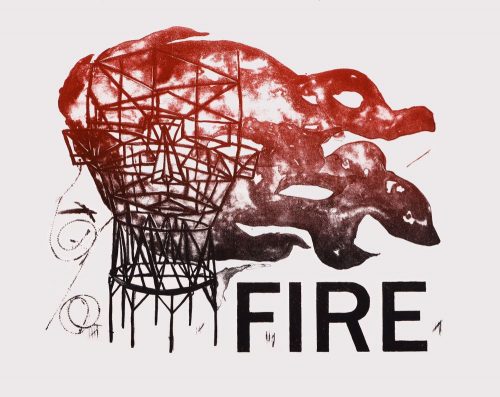 Nina Savenko. The "Fire" artwork series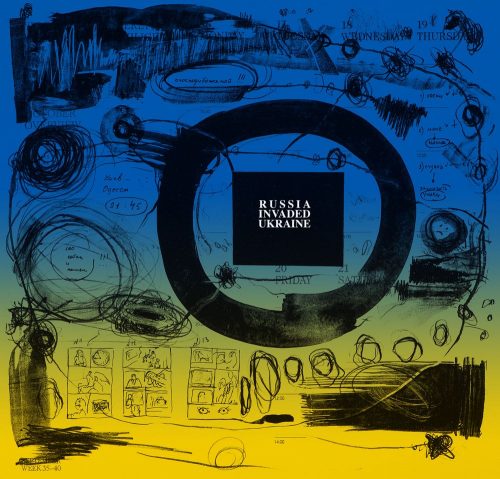 Alisa Gots. The "Stop War" artwork series
The project is being implemented in three main dimensions:
online platform, which presents a selection of the artworks received through an open call and curatorial research, as well as profiles of artists in two languages, available for public use;
creating an online zine that provides professional/research analysis of the collected artwork archive in connection with current events; as a bilingual publication, it will serve as an introduction to further research on this subject for both Ukrainian and international experts;
public events/actions in partnership with the international community as a tool to counter aggression and war, which will catalyse support through activities in the public spaces of European cities.
How we work:
While selecting the artworks and authors, we are guided by: originality, complexity, and discursiveness of statements embodied in different media (video, graphics, posters, painting). We are excited about displaying the works of both established and young artists without age restrictions.
Site policy:
All rights reserved. The use of the Ukraine Ablaze Platform and all materials posted at it in any form, except for free use permitted by the legislation of Ukraine, is carried out by obtaining the appropriate written permission by mail [email protected]. When using the Platform materials, the name of the author(s) and a reference to the citing source must be indicated.
Who we are:
The Laboratory of Contemporary Art "Mala Gallery of the Mystetskyi Arsenal" is a long-term project designed to research current art processes and support and develop the art community. Our priorities are case studies, accessible education, and openness to experiment. In addition, the Laboratory engages independent cultural operators and researchers to support them and build inter-institutional links.
Our partners:
Web-site development is funded by the International Relief Fund for Organisations in Culture and Education 2021 of the German Federal Foreign Office, the Goethe-Institut and other partners.
Working on the project:
Nataliia Andreieva;
Polina Baitsym;
Valeriia Buradzhyieva;
Andrii Myroshnychenko.
Curator — Natasha Chychasova.
Our contacts:
If you have details to clarify, questions or suggestions for cooperation, send your request to the mail: [email protected].