THE 10TH BOOK ARSENAL FESTIVAL CHANGES ITS DATES
Due to the emergency situation in Ukraine caused by the spread of the SARS-CoV-2 virus resulting in COVID-19, the Mystetskyi Arsenal is forced to postpone the 10th International Book Arsenal Festival to late August 2020.
Previously, it was reported that changes were likely to happen but at the same time, the measures taken by the state were believed to help fight the virus and make the holding of cultural events possible. However, on March 25, the Ukrainian government extended the quarantine until April 24.
For the festival team, this is an extremely difficult decision. However, the safety of visitors and participants is always a priority. The Book Arsenal Festival is an international event that hosts more than 100 foreign guests, more than 200 publishers and cultural institutions, and more than 55,000 visitors each year.
"We are ready to hold the 10th International Book Arsenal Festival this year. At the same time, we understand that it will not be as we planned. But we believe that our participants, as well as our visitors, need it. And they need it not online, but in real life, in the unique space of the historic building of the Mystetskyi Arsenal, in its peculiar aesthetic book atmosphere. That's why the Book Arsenal team continues to work on preparing the festival. The exact dates will be provided additionally. If the situation changes again, we will change together with it", Yuliia Kozlovets, the Festival Coordinator, says.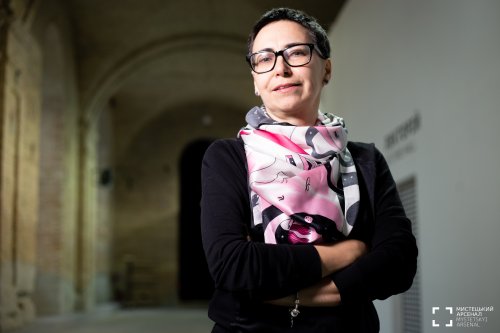 Yuliia Kozlovets. © Oleksandr Popenko
As for the further work with participants who have already submitted their applications for participation, each of them will be notified by the Organizing Committee by e-mail.
Previously, the 10th International Book Arsenal Festival was scheduled for May 20-24, 2020. The focus theme of this year's festival is OPTIMISTS SKETICS curated by literary critic Rostyslav Semkiv. The curatorial team also includes the writer Serhiy Zhadan, literary managers Oksana Khmeliovska, Tania Rodionova, Yuliia Kozlovets and Oksana Shchur, music expert Liubov Morozova, art manager Olga Zhuk, writer and radio producer Iryna Slavinska.
In 2019, the International Book Arsenal Festival won The Literary Festival Award of The London Book Fair International Excellence Awards 2019.
The International Book Arsenal Festival was founded by the Mystetskyi Arsenal in 2011. It is an annual intellectual event in Ukraine, where the book, literary and artistic scenes develop and interact with each other, essential issues of human being, as well as of society and culture are raised and reflected, encouraging participants and visitors to take a proactive position.