Evening of Poetry and Wine
On the evening of December 16th, the Mystetskyi Arsenal and Stanza, Scotland's International Poetry Festival, invite you to join an outstanding event — the Evening of Poetry and Wine. The event will take place at 21:00 (Kyiv) / 19:00 (GMT) in Zoom. The evening will be about poetry, translation, about the lost, or, on the contrary, about the found in the process of translation, about empathy and understanding. We are organizing this event together with Stanza, Scotland's International Poetry Festival, within the framework of the Collaborative Literary Project.
Curators —  Oksana Shchur (Ukraine),  Annie Rutherford (Scotland). 
Music accompaniment by Hryhorii Semenchuk.
To join the event and have an opportunity to communicate with the participants, please register.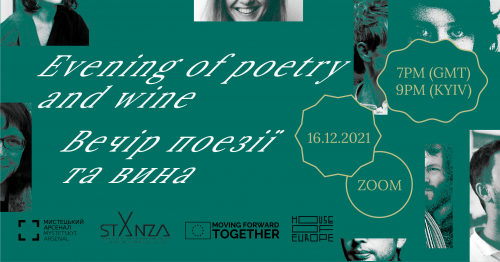 How can poetry bridge the gap between Ukraine and Scotland? Aren't we closer than the map shows? Four Ukrainian and four Scottish poets have tried to feel how their poems will sound in Scottish and Ukrainian respectively.
At the event we will present:
music tracks created by Hryhorii Semenchuk. Hip hop, pop and electropunk! These tracks use the fragments of poetic texts and translations by the participants of the project. Ukrainian poets have recorded vocal parts specifically for these compositions, trying themselves in the role of performers.

Visuals by Yevhenii Arlov.

e-collection of translated works by Ukrainian-Scottish poetic tandems.
 Some of these poets translate professionally and on a daily basis, such as Les Beley, who works in tandem with Vicky Husband. Someone has translated directly from English, knowing it well. Someone has used a version made in non-native English. Myroslav Laiuk offered to tell about emotions, experiences and metaphors not only in literary Ukrainian but in dialect, just like Rosanna Watt, who writes in Shetland. Olena Huseinova took up Hannah Lavery's social poetry, and Liuba Yakymchuk looked for matches to the rhythms and rhymes of Andrew Blair.
The  Mystetskyi Arsenal, Ukraine's flagship cultural institution, brings together various arts – from diverse art practices to music and literature. The multidisciplinary  International Book Arsenal Festival, the largest intellectual event in Ukraine, takes place annually within the scope of the institution's activity.
StAnza,  Scotland's International Poetry Festival, has long-standing experience in holding international literary events. Authors and artists from all over the world, including Eastern Europe, take part in the festival's programs. The Stanza International Poetry Festival is a platform for the presentation of Ukrainian poetry in Scotland, among other countries of the world.
This event takes place within the framework of the Ukraine—Scotland: Collaborative Literary Project that is supported by the European Union within the House of Europe programme.