Yuliya Vaganova: The Online Tried To Catch Me, But Did Not Succeed
Yuliya Vaganova's Blog on LB.ua
A quiet morning and a kayak between the shores where no one is. I used to think that this was my self-isolation, an easy escape from reality. But this spiral has started to turn in the other direction: now this empty nature actually is the reality to which I am escaping from the world of online meetings, virtual tours, and Zoom-parties. "This bridge, it's like that of Holosiy… and the sky, yes, that kind of sky I remember from the Cranach's Stag-hunting at the Kröller-Müller Museum," I thought, while in my little boat. This doesn't mean that it was visually the same; it was such by its essence, by the feelings I experienced when I was looking at the paintings of Holosiy and Cranach in museums. The sky was such by the air, trembling, and breathing.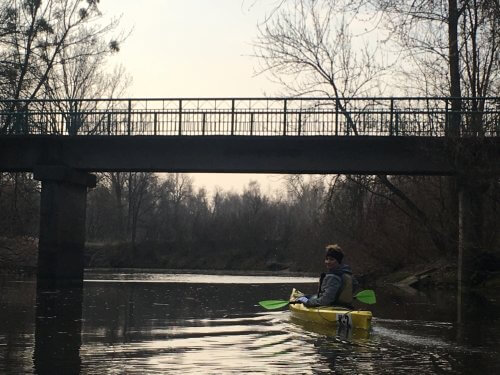 I would even check myself and look at the artworks again, but how?
When you want to see the Cranach's painting at Kröller-Müller Museum, you're conquering the distance, you're intentionally slowly approaching this moment, you are driving by car or riding in a bus, then getting a few more kilometers through a nature reserve by bike, through the forest and the fields, you are approaching through the shadows and the light. You're emotionally preparing yourself for this special meeting. You definitely can't get into this museum amongst a Zoom, a webinar, and a hummer drill behind the wall.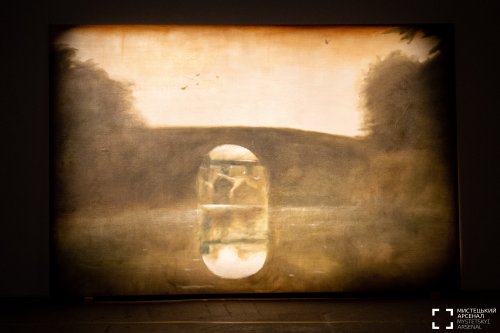 Bridge by Oleg Holosiy, circa 1992, oil on canvas, PinchukArtCentre collection.
A photo from Oleg Holosiy. Non-stop Painting exhibition at Mystetskyi Arsenal in 2019.
Photo credits: Oleksandr Popenko © Mystetskyi Arsenal National Art and Culture Museum Complex
Museums face a new challenge trying to deal with it: how to keep connected to a human? Being anthropocentric institutions, they are primarily trying to save and support the human now. As never before, museums offer a large number of remote lectures, online collections, workshops and recommendations on how to meet the challenges of today. This is a tremendous job actually, which is not performed by many, probably, as the information space mostly consists of news and reports on fear, death, and the spread of the virus. The value of the museums is in being the island that speaks of humanism, history, experiences, and they undertake this tough mission.
However, museums have been challenged by the format as well. In the past, the opportunities to watch online lectures on arts, video-talks, movies, and novels about art were also available and abundant. Yet, all of these were meant to give us only the additional keys to the work, or they were an addition to the main experience — the experience of contemplating the art in real life. What to do now, when there is no access to this "main"? What formats fit now?
We think the audience knows: the main — is in the museum. That's why we try to transfer almost everything online. However, not all real-life experiences can and should be copied. We are facing the challenge of creating other formats of knowledge about the museum. We need to invent a new language and talk about the value and uniqueness of the old one, but not imitate it.
While working on the Japanese Art Exhibition, I was impressed by the approach of Japanese artists working in the media arts. They do not attempt to simulate calligraphy and painting using a tablet, computer, or application. They create an artwork that can be created using a program or an algorithmic design only.
Slow Art Day is fast approaching. Started over 10 years ago, this project has become super popular, owing to the special experiences that most museums offer this special day: slow and enjoyable contemplation of the artwork, on your own, wondering, meditating, surprising from the tension which suddenly appears to you in the story, an aesthetic and intellectual delight. I thought about this format and this year's museum announcements about this day. Is this the exact kind of experience we offer online? Isn't it a mimicry? By offering this, we — those who work in museums — undermine the importance of such a unique experience while setting a new standard — "it's possible online now," don't we?
This internal resistance is not against online programs of the museums, but only a call to think about whether all formats can be renamed and transferred to the internet? Let's keep doing all of our online programs, but let's call them by what they are. And they aren't about Slow Art Day.
*The Online Tried To Catch Me, But Did Not Succeed –  is a reference to a Ukrainian pholosopher Hryhorij Savyč Skovoroda and his saying: "The world tried to catch me, but did not succeed".
Translated by Lesia Lukianets