#ARSENALCOLLECTION: ACQUISITIONS OF 2019
A collection is a particular story that you want to share with others. For instance, a story about one's time, one's perception of it, and what mattered to the people of that time. This is how we build the Mystetskyi Arsenal collection. Its basis consists of a collection of Ihor Dychenko (1946-2015), a Ukrainian art critic who dedicated his life to the study of works by Ukrainian artists of the 20th century. Dychenko's collection consists of 510 works of painting, printmaking, drawing, and applied art by renown masters-contemporaries of Dychenko: Kazymyr Malevych, Oleksandr Bohomazov, Victor Palmov, Vasyl Yermylov, and many others. 
Since 2015, when Dychenko's widow Valeriya Virska passed the collection as a gift to Ukrainian people, Mystetskyi Arsenal, has been expanding it with new artworks every year. It is extremely important for us to document the present, and to tell a story about it as we would like it to be known in the future. The Mystetskyi Arsenal — as an institution — is developing here and today. Accordingly, our collection partially reflects how we are living and developing.
In 2019, we have acquired the works of several authors. First of all, these are the artworks of Halyna Zhehulska, an artist from Lviv who worked in the 1980s. Two of her silkscreen prints and one gouache work were added to our collection. In the 1990s, those silkscreen prints were included in a very important exhibition dedicated to the new, then Soviet, art. This exhibit has been shown in Jerusalem, Düsseldorf, and Moscow. It was highlighting a totally new wave of art. Halyna Zhehulska was one of the artists who're showing this shift, this new [way of thinking and creation of] art. Her artworks now complement and continue the line established in the collection of Ihor Dychenko. 
Part of the collection related to contemporary arts is formed through projects that have already taken place or will be presented in the Mystetskyi Arsenal. For example, young artists at the beginning of their artistic careers are very valued and interesting to us. Also, deciding on which works of contemporary art to acquire, we consider modern artists who have already become well-known masters in their medium. In these two ways, we talk about the institution, and about the times it exists.
What determines the possibility to have certain artworks in a collection? Of course, the matter of finance plays a role to a great extent. We do not ask artists to gift it to us, and we don't keep artworks after the exhibitions. We do not bargain for an art piece in exchange for the opportunity to be exhibited. We are following the world standards for the purchase of artworks: signing contracts, paying remuneration, and taxes. All the information on acquisitions is publicly accessible and can be verified. 
A series of artworks by Vlada Ralko became an absolute gem of our acquisitions last year. We are grateful to the artist for agreeing to a very affordable fee for her works. This way, we were able to obtain the whole series. The acquired series of works is titled Kyiv Diary. It was created during and after the Maidan and was repeatedly featured in various projects, including Revolutionize, the Mystetskyi Arsenal exhibition in 2018.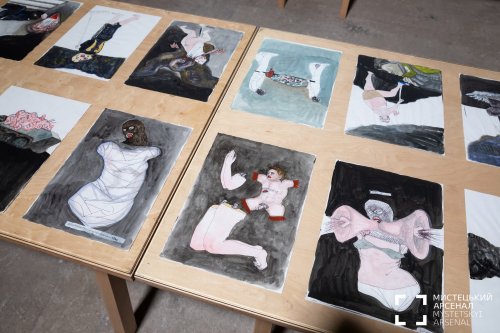 Several pieces from Kyiv Diary (2013-2015) series by Vlada Ralko placed on the tables.
Photo: Oleksandr Popenko © Mystetskyi Arsenal
What do we feel during the revolution? Where do we lose ourselves? How do we shut ourselves from the outside world? How do we seek support? How parts of us are falling away and the new ones are born? These were the questions explored in the exhibition and in the Vlada Ralko series. This is why the addition of the whole Kyiv Diary series to the Mystetskyi Arsenal collection is a great success. Today it is the largest of Vlada Ralko series of works, located in one institution. Some collectors and museums have the artist's separate works, but Mystetskyi Arsenal has purchased 44 pieces, which are now a part of the Museum Fund of Ukraine.
In the summer of 2020, a personal exhibition of artist Andriy Sagaidakovsky is planned to open at Mystetskyi Arsenal. When you see his works, it seems everything twists inside of you, while you may also get stunning food for the brain and aesthetic enjoyment. Last year, we acquired two of Sagaidakovsky works to add to our collection — a painting titled Who Are You, Doctor? (1996) and the Dancer (2003). His works always are full of play, irony, corporeality, and reflection of other human experiences. Additionally, Andriy Sagaidakovsky experiments with various techniques and materials. He often uses old rugs to create his artworks. For example, the Dancer is made of a rug. Our future exhibition project will introduce the audience to the artist's laboratory including various experiments with techniques, installations, and art pieces.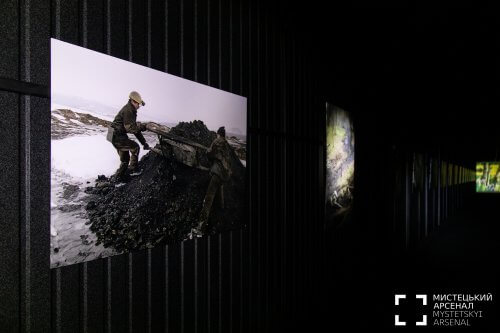 Photographs of miners from Dreamland Donbas (2002-2003) series by Viktor Marushchenko, hanging in a tunnel
during the Obabich exhibition at Mystetskyi Arsenal in 2019.
Photo: Oleksandr Popenko © Mystetskyi Arsenal
Another of our acquisitions was a series of photography works Dreamland Donbas by Viktor Marushchenko. I saw this series for the first time at the Center of Contemporary Art (affiliated with the National University of Kyiv-Mohyla Academy). It was curated by Jerzy (Yura) Onuch. After this exhibition, the project was selected for the Ukrainian pavilion presentation at the São Paulo Art Biennial (2004). Moreover, Dreamland Donbas had to be shown during the Days of Ukrainian Culture in Poland in the mid-2000s, but the Ministry of Culture refused to present this project. In fact, the Ministry of Culture censored the project, saying that they couldn't portray the country in such a way. Interestingly, after this situation, one of the versions of the Dreamland Donbas project was purchased by a Polish Arsenal Gallery. Therefore, nowadays there are two cultural institutions that have this series in their collections — the Arsenal Gallery in Białystok and the Mystetskyi Arsenal in Kyiv.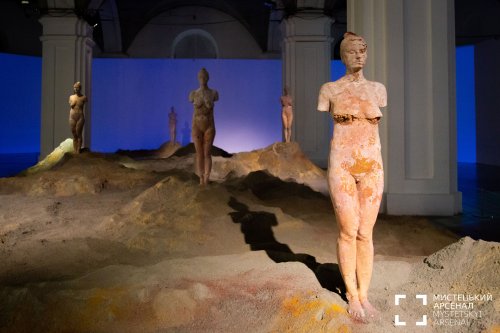 Performative sculpture by Maria Kulikovska Star Dust (2019) which is built in the shape of the Kerch Peninsula relief [the artist's illegally occupied homeland] and includes the sculptures modeling Maria herself.
A photo from Amazing Stories of Crimea exhibition at Mystetskyi Arsenal in 2019.
Photo: Oleksandr Popenko © Mystetskyi Arsenal 
This is a large, media sculptural installation that models the relief of the Kerch Peninsula where Maria was born and grew up, with the sculptures modeling Maria herself. Contemporary art has a concept of a time-based object, which is a work that evolves over time (usually it is a reference to performances or non-static mediums). This machine of work, despite its visual static, is like that. The sculptures are made of brittle material and will eventually dissipate like star dust. This work is about a human, memory, home, longing, and the incredible fragility of the imaginary monolith of the earth.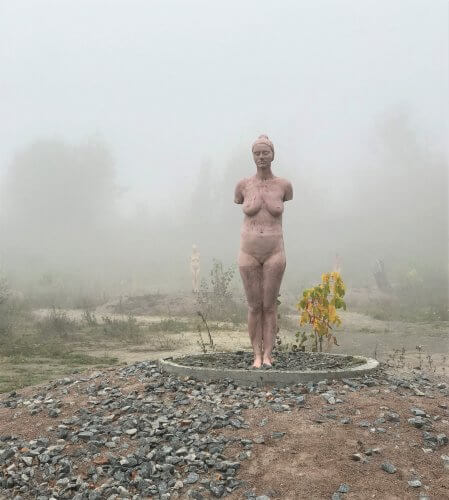 The sculptures modeling the artist Maria Kulikovska herself were a component of the performative sculpture Star Dust (2019)
and now located outdoor on the Mystetskyi Arsenal territory.
Photo: Oleksandr Popenko © Mystetskyi Arsenal
Obviously, we couldn't preserve a huge, 125 sq meters installation. However, we do have blueprints, accurate description, video and lighting control protocol, and a sculpture cast form.