The Book Arsenal Festival will arrange more than a hundred B2B meetings between Ukrainian and foreign publishers
36 foreigners from 20 countries have registered for B2B meetings with Ukrainian publishers, which will be the final part of the professional online program of the International Book Arsenal Festival.
In total, more than a hundred negotiations are to take place on the translation of Ukrainian books abroad.
Canadian, Mexican and German publishers and literary agents turned out to be the most active. Among applicants, there are representatives of those countries with which Ukrainian publishers haven't had much experience of cooperation, namely: Finland, Denmark, Macedonia, Egypt, Turkey, etc.
The negotiations will take place online on June 18-19 and will be the final stage of the Ukrainian Literature: Rights Now! professional program which is aimed to inspire foreign publishers to get interested in the Ukrainian national product, the export of Ukrainian literature, and promotion of Ukrainian writers abroad.
The project is funded by the EU as part of the EU4Business initiative and implemented by EBRD.
"This year, during the Book Arsenal Festival, we planned to equip the negotiation area according to the best international standards. But due to the quarantine, we had to change everything. To be honest, at first, our team was skeptical about the idea of ​​holding B2B meetings online, it seemed unrealistic to involve foreign partners at such a time. However, the number of requests exceeded our expectations. In addition to those who applied for negotiations, there were dozens of requests for advice which of Ukrainian authors to translate or where to find a specialized publishing house. Today, more than ever, the world is empathetic, geography no longer matters as well as time. Many publishers and literary agents, whose pre-quarantine schedule was planned for the year ahead, as well as business trips to book fairs and festivals, had to change their plans. And right now they are open to new acquaintances and, like us, are looking for new ways to do business and communicate", Oksana Khmeliovska, the curator of the program, emphasized.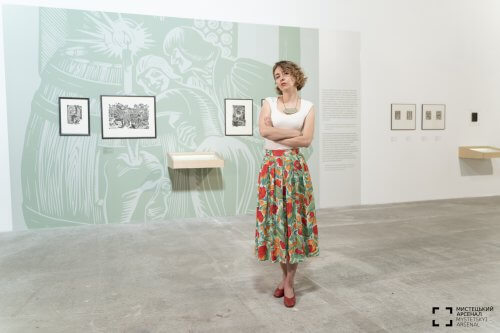 Oksana Khmeliovska, the curator of the program
Photo: Oleksandr Popenko © Mystetskyi Arsenal
The B2B meetings were preceded by an educational program for Ukrainian publishers and literary agents, during which experienced international experts told how to sell book rights online, who a today's literary agent is, and how to work with partners after signing the agreement. Among the program participants were John Malinowski, the President of the International Rights Platform PubMatch; Edward Navodka, the Publishers Weekly Bookselling and International editor; two winners of "The Literary Agent Award" (Excellence Awards): Pierre Astier (2019) and Sandra Pareja (2020), etc.
The events were held online by pre-registration and were attended by about 70 Ukrainian publishers, literary agents, literary managers, and book PR experts.
Earlier, as part of the project, the Book Arsenal Festival recorded videos in English, which introduced books worth translating and Ukrainian grant programs supporting translations to the foreign publishers. In cooperation with the Chytomo cultural and publishing project, a special project Ukrainian Literature: Rights Now! was created where longreads about the peculiarities of cooperation with a particular book market were published.
The Book Arsenal team considers this line-of-business as a priority for the next 3 years and will develop it in cooperation with Ukrainian publishers, international cultural institutions, Ukrainian embassies abroad, independent cultural leaders and Ukrainianists.
Ukrainian Literature: Rights Now! has become the only online program of the 10th Book Arsenal Festival – this year, due to the pandemic, the international festival had to be postponed till 2021.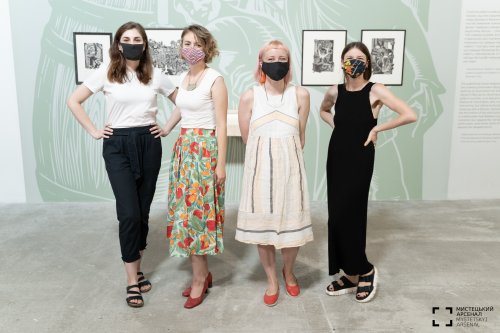 Team of the Ukrainian Literature: Rights Now! professional program
Photo: Oleksandr Popenko © Mystetskyi Arsenal
The International Book Arsenal Festival was founded by the Mystetskyi Arsenal in 2011. It is an annual intellectual event in Ukraine, where the book, literary and artistic scenes develop and interact with each other, essential issues of human being, as well as of society and culture are raised and reflected, encouraging participants and visitors to take a proactive position. During the 9 years of its existence, the Book Arsenal Festival has hosted over half a thousand writers, poets, philosophers, designers, illustrators, and publishing experts from over half a hundred countries of the world.