MoMA in New York to host a discussion on Ukrainian museums during the war
The MoMA in New York, which has one of the best collections of contemporary art in the world, will host a discussion on Ukrainian museums during the war, organised with the support of the Ukrainian Institute. The discussion will be streamed online with Pulitzer Prize finalist Jason Farago moderating.  
What's happening on the ground to Ukrainian museums and cultural institutions? What are the challenges they face each day? How do their experiences impact thinking about museum practices for the future? The directors of two art museums in Kyiv, Ukraine, will discuss their experiences and perspectives with the critic Jason Farago.  
See you on November 15, 2023; 6-7:30pm (EST) followed by a reception. In person or on Zoom, register here. 
Olesia Ostrovska-Liuta is Director General of the National Art and Culture Museum Complex Mystetskyi Arsenal (Art Arsenal) in Kyiv. She also served as First Deputy Minister of Culture of Ukraine and First Deputy to the Head of the National Committee for UNESCO.
Yuliya Vaganova is Acting Director of the Bohdan and Varvara Khanenko National Museum of Arts, which she has managed throughout the Russian invasion of Ukraine. She has lectured at the National Ukrainian Art Academy and Kyiv Academy of Media Art and has served as Vice-President of ICOM Ukraine since January 2023. 
Jason Farago is a critic at large at The New York Times, where he has reviewed exhibitions, conducted interviews and reported features across the United States and in a dozen foreign countries, including Ukraine. In 2023 he was a finalist for the Pulitzer Prize for criticism.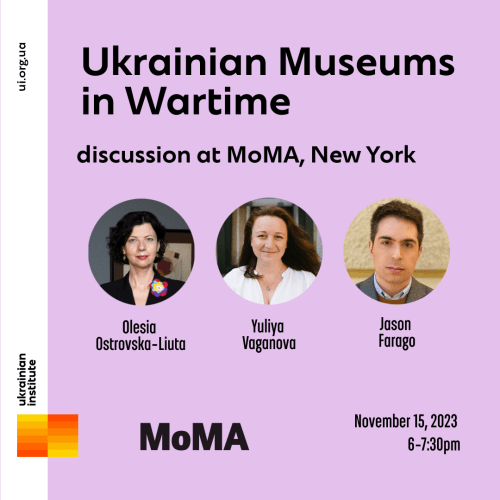 This evening is presented by Research Programmes and post, MoMA's online platform devoted to research on art from a global perspective. 
This programme is supported by the Trust for Mutual Understanding.